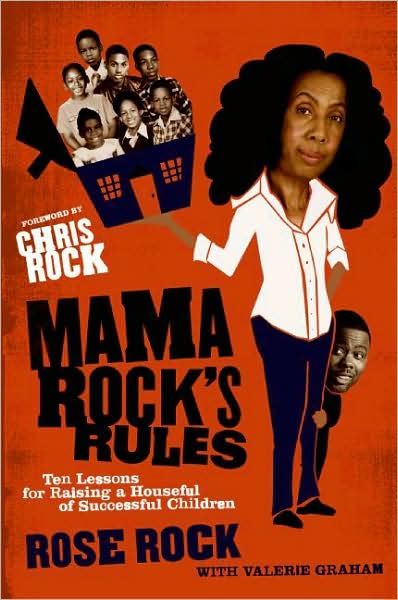 Mama Rock's Rules
By Rose Rock
"Rose Rock—child advocate, educator, and mother of ten-plus children, including comedian Chris Rock—shares her heartfelt and no-nonsense advice on parenting. Uber-mom Rose Rock raised ten children and seventeen foster children. She did it by never shying away from hard conversations and by not being afraid to present strong ideas about boundaries, discipline, choices, and consequences. In short, Rose Rock tells it like it is.
In Mama Rock's Rules, Rock shares the funny and highly practical lessons she learned both as a parent and an educator, while offering strategies for teaching children to be self-reliant. Her advice—delivered with a dose of wit and homespun humor—will inspire you to teach your kids right, whether your brood is one child or ten."
I received
Mama Rock's Rules
: Ten Lessons for Raising a Houseful of Successful Children to review. It contains a short foreword by Chris Rock and has 10 chapters of lessons for raising children. Each chapter focuses on a particular key concept that Mama Rock considers of importance for raising children.
Rose Rock stresses the importance of a parent being a parent, and not a friend. You are responsible for a child, not a friend. She says that rules are very important for children. They allow a child to know that someone cares about them and they are protected. She discusses the topic of cussing and dinner time. Rose covers spirituality, good memories, reading and talking with children about sex.
My three favorite chapters were on reading, dinner time, and the sex talks. I agree the most with these three chapters. As a future educator, I could not agree more about reading with and to children. Rose encourages parents to read with children and allow children to read aloud so they are comfortable with it. I also like that she encourages parents to make fun trips to the library. I also think that allowing your child to see you read the newspaper in print or online is a good thing. It allows a child to know the importance of staying informed. It's imperative to build a child's love of reading early on. I was told in my recent literature for children and young adults class that simply having books in a house makes a child smarter. I think this chapter is dead-on!
I liked the dinner time chapter because it stresses the importance of eating dinner together and having a good meal. I love to cook and think that sharing a family meal is a great time to bond. It's also great if you can get everyone involved in dinner somehow, like by setting the table.
I also like the sex talk chapter. Obviously, a child does not want to know about their parents having sex and a parent does not really want to hear the same about their child. However, from my own observations and this book, I see that it is very important for a parent to make it clear that child is allowed to ask questions about sex. Sex should not be a topic that a child simply wonders about and gets misinformed elsewhere. When a child is allowed to ask questions and get honest answers, they are comfortable with the topic and better informed to make the right choices. I honestly believe that parents who make this a forbidden topic have children who have sex earlier in life. Children need to know the consequences of having sex and need to know about safe sex.
I liked how throughout the book, Rose included little "Mama's Mojo" pieces. These little insertions added something to the sections. They included little tips or tricks for parenting. I also enjoyed the side comments from Rose's other children throughout the book. This helps make her approach to parenting more believable and realistic. I really liked this quick read!
Disclaimer: I received this book for free for this review. No other compensation was received. The opinions expressed are my own.