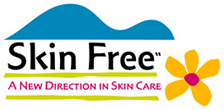 Skin Free is recommended for individuals with:
* Extreme Dry Skin
* Skin or Fragrance Allergies
* Psoriasis
* Dermatitis
* Eczema
* Pregnant Moms
* Babies
* The Elderly
* Diabetics
* Renal Patients
* After Radiation or Chemotherapy
Pharmacist formulated and doctor recommended patented formulas for delicate, sensitive and very dry or damaged skin.
* All Natural, Vegan Ingredients
* No Perfumes
* No Petroleum Products
* No Harmful Chemicals
* No Steroids
* No Colorants
* No Greasy feeling
* No Animal Testing, Cruelty Free
Skin Free products also have a Toxicity Rating of "0" from the Environmental Working Group!
When I received my Skin Free products I was really excited to try them! I was so excited that when I opened my
Niaouli Scrub for Blemish Prone Skin
I spilled a little bit on the top of my phone! Luckily, I wiped it off quickly. I was impressed that the scrub didn't hurt my phone at all! Not even a scratch. It did make it smell a bit different though! I believe this shows how gentle the Skin Free products are! However, I was still a bit scared to use the scrub because I know how some scrubs have huge chunks in it and they irritate/hurt my skin. I was also worried because I had never tried a scrub that was so liquid. I'm happy to say that the scrub is very nice! I plan to continue to use it once a week just to exfoliate my face. It leaves the skin refreshed and smooth!
I got to try the Scrub along with the
Basic Four Gift Set
! This set contains the
Extra Moisturizing Soap & Shampoo Bar
. I always use body wash because soaps dry out my skin and make it feel tight! This soap does not do that! It made my skin feel clean and natural! This soap has even received the National Eczema Association's Seal of Acceptance!
The set also includes the
After Shower Moisture Spritz
. I was excited to try this because being a college student means all I take are showers. The combination of the spritz and soap have made my skin really soft and silky! I'm impressed!
Another product in the set is the
Niaouli Butter Stick
. I like the application of this product. It's great for my feet and elbows! It contains healing oils which work wonders on my feet (I wear flip-flops often and my feet have become dry and kind of gross)!
Finally, the set included the
Super Moisture Body Balm
. I was used to the usual body lotion/butter that I've always used and didn't fully pay attention to the "Use just a few drops of this rich, thick, moisturizer to saturate your skin..." bit. However, I can say that this is not an understatement. I poured out entirely too much this first time. This bottle will last you a very long time because you need such a small amount.
Skin Free is currently offering a BOGO special at Walgreens and now, CVS. More information about that promo can be found
here
.
There's free shipping on orders of $25 or more on their
website
.
WIN! THIS GIVEAWAY IS CLOSED!
Skin Free is so generous they are offering one of Laughing Lindsay's readers a $30 Gift Certificate to their site!
Mandatory: To enter visit
Skin Free
and then tell me what you would buy with the $30.
(Make sure your email address is in the comment or is easily accessible via your blog profile or blog itself. I need to be able to contact you!)
Bonus Entries:
Leave a separate comment for each!
1. Follow this blog (tell me in comment)
2. Follow me on
Twitter
and Tweet "Win $30 gift certificate to Skin Free from @89linz at http://tiny.cc/AWzMq"
(Leave the link in comment)
3. Blog about this giveaway
(Leave link in comment)
Giveaway ends on August 14 at 11:59 pm EST.
The winner will be chosen via random number generator the next day and notified by email. If I don't hear back from the winner within 48 hours of sending the winning email, I'll pick another.
GOOD LUCK!
*Open to US residents only